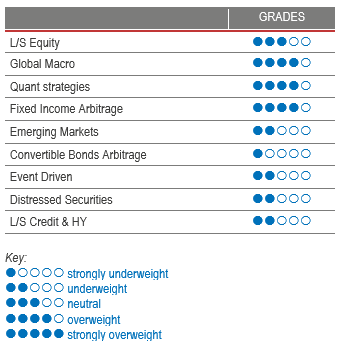 As the investment community was slowly preparing for a well-deserved summer break, a higher-than-expected US CPI read revived fears that a recession might be around the corner. Uncontrolled inflation is pushing central bankers to continue raising the cost of capital, as the Fed did at its June meeting.
Equity markets sold off across the board, with high single-digit declines over the month. Indices with a higher exposure to cyclicals underperformed, as they would be on the frontline of a global recession. Chinese equities were among the few exceptions to finish the month in positive territory. Local specialists believe that the central government is providing indications that corporate investigations and sanctions might soon be over, as the government wishes to stimulate the economy and job creation.
Sovereign yields and credit spreads are generally wider as investors are pricing in a battle to tame inflation that is not yet over; they are also pricing in higher idiosyncratic risks for fragile corporations and sectors.
Most commodity futures sold off during the month, but returns on energy and soft commodities have still posted double-digit growth since the start of the year. There is no doubt that considering the tight supply situation we are facing now, commodity prices will remain volatile. The dollar strengthened significantly against major currencies, making it even more difficult for Europeans to fight inflation, as many imports such as energy products are paid for in dollars.
The HFRX Global Hedge Fund EUR returned -2.01% during the month.


Long-Short Equity
It was a challenging month for Long-Short Equity, since equity markets sold off very aggressively and correlated relatively. As one manager pointed out, in a risk-off movement, there is rarely a distinction between high quality and low quality. Although Long-Short managers printed on average negative absolute returns, they offered downside protection through positive contributions from their short books. Long-Short funds have captured only a fraction of equity index downside. Directional strategies tended to underperform market-neutral funds and managers running a moderate net exposure. The level of risk remains low for the moment as summer tends to be more volatile due to lower liquidity levels. The current economic situation will not make it easier. Over the month, Long-Short Equity funds with a focus on China outperformed their US and European peers due to better perspectives in high-growth potential sectors such as e-commerce, green mobility and renewable energies. On average, since the start of the year, returns generated on short books have not been able to offset the negative alpha on long investments. This has been particularly the case for high-octane strategies with concentrated investments in growth sectors. The headlines have focused on the poor results of big star fund managers. This is a narrow image of the dispersion within the universe in 2022. Well-diversified allocations to the Long-Short Equity universe have generated good results, generating positive alpha and positive returns. As mentioned previously, we do not expect funds to add significant levels of risk for the moment, but rather selectively invest in longs, and refreshing and reinforcing their short books. Over the short term, we expect good Long-Short Equity strategies to protect capital for their investors by maintaining gross and net exposures close to their lower ranges. The war is exacerbating some of the challenges companies around the world are facing. Picking the right stocks will be important, but being able to do so from a long-short perspective can bring a solid edge to long-only equity solutions.
Global Macro
Indices show that Macro strategies returns were overall negative in June. However, dispersion was high across the universe. Systematic strategies have, on average, outperformed discretionary managers benefiting from strong trends in equities, rates and currencies. Systematic managers generated strong contributions from short equity indices, short sovereign rates and long dollar positions. Long energy futures detracted from performance for both systematic and discretionary managers. We have said in the past that Global Macro would have a better environment to deploy capital, as central banks were starting to reduce liquidity injections and are planning rate hikes. The war in Ukraine has just jump-started some of the market volatility that we were anticipating due to less fiscal and monetary support. Asset risk premiums are moving across the board, and Macro managers are capitalising on these market moves. We continue to favour discretionary opportunistic managers who can draw on their analytical skills and experience to generate profits from selective opportunities worldwide.
Quant strategies
It was a very strong month for Quantitative managers. Directional strategies contributed to performance mainly through short equity positions. Short-term trend futures contributed to performance in almost all asset classes. Equity statistical arbitrage models were also strong contributors to performance. Multi-model quant strategies performed well on average, benefitting from sustained volatility. Since the start of the year, Quantitative strategies have been strong diversifiers and are among the best performers within the Hedge Fund universe.
Fixed Income Arbitrage
Despite its hawkish rhetoric on the back of pervasive inflation, the Fed is still far behind the curve, hoping that the depth of the equity sell-off will help to curb inflationary pressures. While the 10y yield went through the 3% mark, the equity sell-off intensified, triggering some flight to quality, pushing yields down from 3.15% to 2.75%. The market remains anxious and volatile. The Fed's rate hike took the 10y back up to 3.50%, to finish the month below 3%. As we speak, volatility remains high due to wide trading ranges, creating a more challenging environment for directional macro managers. However, fixed income RV managers continue to benefit from healthy opportunities, while directional managers reduced their risk at the end of May.
Emerging Markets
Emerging Markets strategies suffered on the back of two major idiosyncratic events, a war in Eastern Europe and China's zero-Covid policy, but also from a general risk-off sentiment. In contrast, the strength of commodity prices has provided strong support to opportunities in Latin America and other export-driven nations. Performances are dispersed across managers depending on the area of focus. There are few hedge funds covering emerging markets. They tend to be specialists in narrower geographical regions. This strategy offers selective investment opportunities, but we remain overall cautious for the moment, as decreasing growth expectations and rising interest rates in developed markets are warning indicators for the region.
Risk arbitrage – Event-driven
Indices for Event-Driven strategies were negative for the month of June. Merger Arbitrage suffered from the widening of deal spreads that are pricing in a higher level of uncertainty in economic fundamentals, but also lower probabilities of deals closing. Widening spreads are also being fed by capital being forced to that must remain in merger arbitrage pods. Certain merger arbitrage managers are being forced to cut risk when they reach certain drawdown or volatility thresholds. According to the managers we speak to and track, the opportunity set remains very interesting, with wider spreads potentially generating double-digit annualised returns. The pipeline of deals coming to the market remains adequate for capital deployment, and importantly, financing is still available for corporations to act on board room decisions. An interesting element to point out is that the share of financing being provided by non-banking institutions is growing substantially. With investors currently looking for diversification, merger arbitrage provides an interesting tool that is structurally short-duration, where deal spreads are positively correlated to increases in interest rates.
Distressed
Bankruptcy headlines have captured the implosion of hedge fund strategies and financial intermediaries active in digital assets. The dramatic fall in value of crypto currencies has put the spotlight on a specific number of crypto investors and crypto lenders. Fortunately, this concerns only a very niche segment of the hedge fund universe. Currently, default rates of sovereign and corporate issuers remain relatively low, but the rapid widening of credit spreads and the deterioration of economic fundamentals will lead to a rise in companies running into trouble. Leading managers are still waiting for further dislocations to happen before going on the offence.
Long short credit & High yield
Long short credit managers have done well compared to traditional credit funds. Their short books and hedges have helped mitigate the impact of widening spreads on long holdings. Some managers think that the situation does not look sanguine, but attention is required to pick the right issues, with particular attention paid to corporate leverage levels and covenants. As markets are expecting rates to continue to rise and economic growth to decelerate, the best managers remain diversified, investing in quality longs and focusing on industries with higher pricing power.