The regulatory outlook in China started to point to a more restrictive environment ever since the regulators pulled the plug on ANT Group's IPO at the end of 2020. After authorities fined the ride-hailing Didi Chuxing for alleged violations of China's Anti-Monopoly Law at the end of June, it looks like it is now the turn of the educational sector to be hit by a new regulatory framework for the after-school tutoring (AST) industry.
The new policy will require companies and institutions teaching school curriculum to become non-profit. It also imposes limitations on foreign capital involvement including IPOs, franchises and Variable Interest Entities (VIE). All of these new rules, which also include a ban on holiday and weekend after-school tutoring, apply not only to companies catering for primary and middle school pupils (G1-9), but also for high school students (G10-12).
Following this news on an industry representing more than USD 120 bn, the three biggest Chinese education companies saw a significant correction (-79% over July 2021), Chinese offshore stocks fell by more than 13% and Chinese onshore companies declined by 4%.
With this last drawdown, valuation on Chinese tech companies has collapsed to a 25.5x forward PE ratio, representing a strong discount compared to US tech companies of -18%, way below its 10-year average.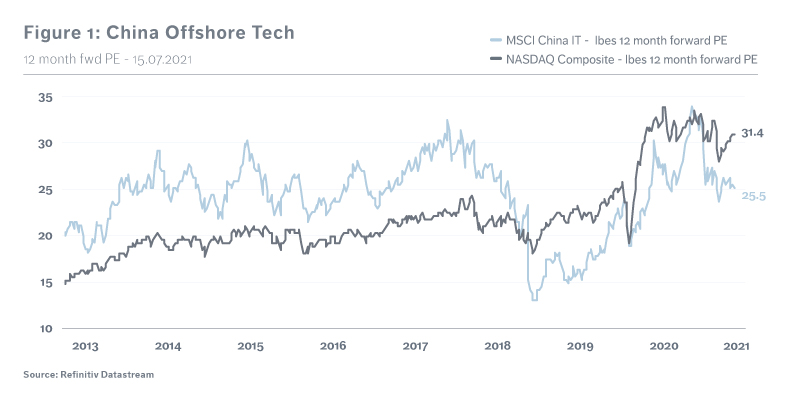 These latest announcements of tighter regulation are in line with the guidelines given during China's 14th Five-Year Plan.
Among those, we believe the current Chinese stance on regulation can be divided into three main objectives:
Reinforcing equality among people by, on the one hand, giving every child the same opportunities in education and, on the other, by taking measures helping to boost the birth rate
To remind large companies, including those in the tech sector, that they have social responsibilities, committing them to contribute to the building of a fair society and preventing the creation of market monopolies that could jeopardise fair competition and national goals
Enhance China's independence from other countries, by supporting investment in key areas, such as electric vehicles, solar, Cloud, 5G, healthcare, and promote local investors to participate more in the growth of China's big companies currently listed through ADRs, i.e. mainly owned by foreigners
The Chinese authorities can afford to tighten regulations now because economic growth is strong this year. At the same time, the have have started to ease financial conditions at the end of June to support activity. But investors have no visibility on the duration of this regulatory tightening phase, nor on the sectors and companies that may be affected. This leads to a structural increase of the risk premium, which we believe is already partly priced in by the markets.
Not all stocks are affected equally. Maintaining a level of competition can also promote research and development and growth. So even if we think short term outlook on the Chinese market to be more uncertain, the long-term impact can be positive.
Credit impulse is a reasonable leading indicator for Chinese equity performance.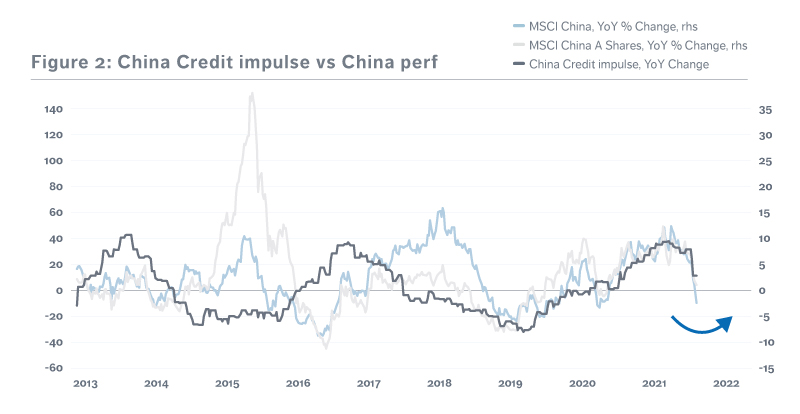 If the financing of tech companies via overseas listing should become an exception after recent decisions, this structural changes should support local investments benefiting to onshore stocks.
Also, by limiting the power of big tech companies, China is giving the opportunity to small companies to emerge and fuel the economic growth.
Therefore, we maintain our exposure to domestic Chinese equities for now, while remaining more cautious on offshore companies. We keep monitoring the Chinese technology sector which has endured a massive derating but stay on hold until we have more visibility.