In 2022, inflation and interest rates have hit their 40-year highs. Everyone is affected but pension holders are among the most vulnerable. While pension benefits increase with inflation, they often lag the rise in prices of goods and services – making the cost of living increasingly unaffordable.
Energy and food drive price increases. Core inflation is up too.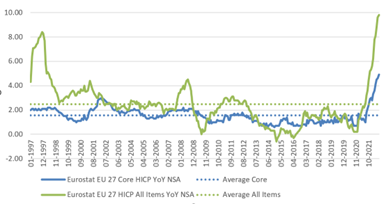 Source: Candriam, Bloomberg and Eurostat as at 09.09.2022
No ready-made solutions
So how are pension funds being affected by high levels of inflation? And are there investment tools that can help them address this challenge?
Considering that the markets have not experienced inflation this high in 40 years, a ready-made solution won't be found by looking for parallels in recent past. Instead, you can find some good ideas in our new paper "Inflation and Pensions", as well as answers to these and many other questions:
How is inflation impacting financial markets, pension holders and pension schemes?
What are the challenges for public and private pension funds in different jurisdictions?
The "right" investment strategy: what are pension schemes looking for?
Which investments can be used to mitigate inflation risk?