Central bank support during the COVID-19 pandemic has been good for investors. Throughout 2021 investment performance of most assets benefitted from a period of robust economic growth supported by highly accommodative fiscal and monetary policies, including quantitative easing, across all key markets. However this period is coming to an end.
Key economic indicators show that global GDP growth has peaked and is now decelerating. The pace of this deceleration will depend on whether inflation remains elevated for a year or more while long-term interest rates normalize as central banks embark on the road of tapering their monetary stimulus programmes.
In this kind of an environment, we expect the volatility of risky assets to increase dramatically over the course of 2022. With revenue growth negatively impacted, cyclical companies will come under particularly heavy pressure. In contrast, among those companies expected to fare better than most we expect to see innovators with the flexibility needed to quickly adapt to the fast changing consumer trends and demand. Such companies tend to be less affected during periods of economic growth slowdown. Moreover, as rising inflation places most companies under pressure, innovative companies typically have superior pricing power. This is mainly due to the perceived superior value of their products and services, which helps innovative companies to pass inflation costs to their customers.
Combining sustainability and resilience
With many innovative companies also offering a sustainability angle, they seem almost too good to be true. Indeed, many of these companies can become huge disappointments despite their exciting innovative ideas, as the lack of sound financial basis eventually leads to an implosion of the investment opportunity. That is why successful investing in this area is typically associated with strict selection discipline built around company fundamentals and financials.
Apart from a good balance sheet, we believe that a good innovative company also would have above average business growth, and strong and stable management, focused on placing their company at the forefront of their sector. A management not distracted by restructuring of the business, its debt or struggling with liquidity. Typically the company will have its eye firmly on growth opportunities, and using its full creative potential on creating innovative solutions to grasp them.
The market of innovative companies is actually expanding due to various regulations around the issue of climate change, meaning that companies are driven to embrace change and take measures aiming to protect the environment, stall the pace of climate change and mitigate its impact. This will be very valuable in market conditions which make areas of growth hard to find.
Europe's innovative environment
Despite some common misconceptions, Europe has created a highly favorable environment for innovators. It is not just about the level of Research & Development (R&D) spending by companies, but also research hubs, university research, scientific and engineering networks and publication of research. Data shows that innovative companies in Europe have achieved better alignment with sustainability challenges than their peers in other global markets. Moreover, Europe is closely second to the US in terms of high value "green" inventions, i.e. those ESG-related inventions that are patented in at least two different countries.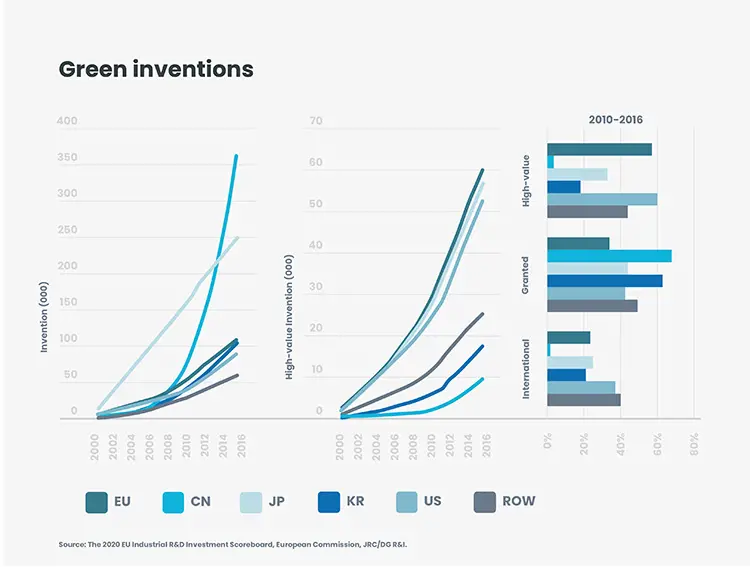 Note: Cumulative trend of green inventions (left), high-value green inventions (centre), and share in the period of 2010-2016 of high-value, granted and international inventions (right) for major economies over their total number of green inventions. "High value" means that the invention is patented in at least two different regions of the world.
Areas of opportunity
We see many exciting areas of innovation across a multitude of sectors but we find it particularly encouraging for investors that so many of them are linked to ESG. This is driven mainly by consumers and clients of different companies, who have their own goals and expectations related to ESG agenda. Regardless of their sector and area of activity, companies need innovative solutions to meet their objectives.
When it comes to sustainable innovative solutions, much of it of course is about climate change but there is a lot that is not. Many of the climate change-related innovations are to do with familiar areas, such as more effective building insulations, energy efficient technologies, including electric vehicles, hydrogen transport, as well as innovative solutions aimed at reducing greenhouse gas (GHG) emissions.
There are also less obvious solutions in this category, such as the use of enzyme and microbiological solutions in many industrial processes to simplify them, achieve better energy efficiency and replace poisonous chemicals. Or a feed additive for cows that reduces by a third the production of methane by their digestive system, by about 30%. Methane is more than 80 times as potent as carbon dioxide in warming the atmosphere.
In addition to climate change, there are other areas of innovation which come with a strong sustainability focus, such as medical treatments, vaccination, biotechnology, artificial intelligence, quantum computing and new materials. And it is good to know that in a slow growth environment, investing in innovative companies is also one of the best ways of accessing some of the best sources of returns.