Humans are not the apex predator, although we act that way. Nature may fight back and demonstrate how weak we really are. Our Sovereign Sustainability model, designed for investment analysis, also offers holistic insights as well as numerical. Perhaps both our investments, and our future, come down to something quite simple -- Don't fight Mother Nature.
Holiday gifts for an apex predator
'Tis the season for gift-giving -- and perhaps the occasional charity campaign. Recently, $650,000 real dollars were spent to purchase a mega-yacht that can only be used in a videogame1 - the Metaverse, or virtual reality of sorts, attracts more and more capital. Many put their faith in cryptocurrencies with no backing in the real world, as the imaginary Matrix –seems designed to be more attractive than the grim reality around us. (Hope you enjoy the most recent opus, released just in time for Christmas 2021!)
And charity? For the same money2, it is estimated we could restore and plant forests several times the area of New York's Central Park – in the real world.
As the ability to distinguish oneself in a virtual video game becomes astronomically expensive, one cannot help but wonder about our place on the planet. Are we so powerful that the (virtual) pleasure for one is more important than the (physical) well-being of many?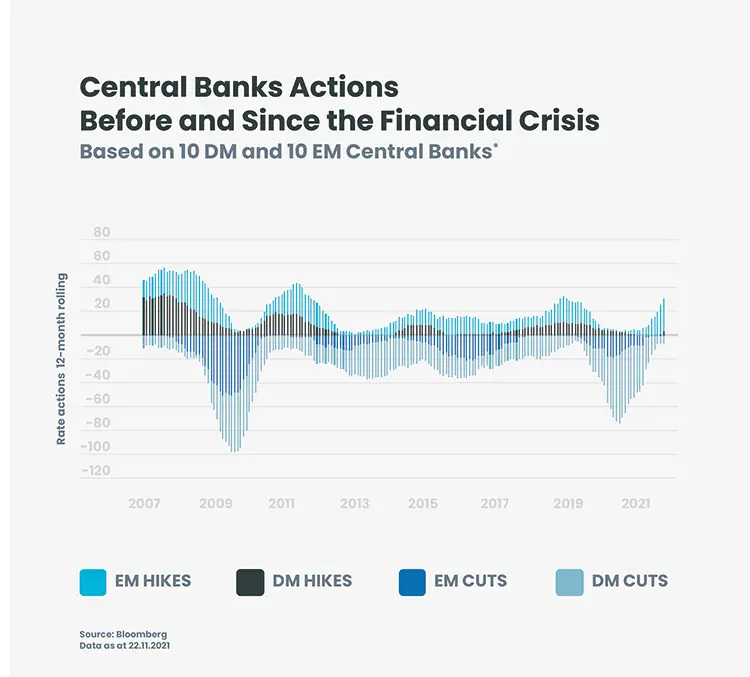 How have we survived?
Actually, human beings have never been on top of the food chain. Indeed, studies show we are on the same level as anchovies3, although this is hardly a concern in a modern-day society. In the times when being eaten by the local apex predator was a real possibility for us, hominids had one very powerful ability that set us apart. This was our ability to communicate complex concepts and thus to coordinate large numbers of adults towards the achievement of a common goal – overcoming dangerous circumstances, and ultimately survival. Strength in numbers.
In the aftermath of COP26, with anti-vax protests turning violent and armed resistance to wearing face masks in some countries, the question remains – do we still have what it takes? Ultimately, we are running against the natural limitations of the environment. These take multiple forms -- the hurricanes, scorching heat, forest fires, and the current virus are just different consequences of the harm we have caused to our environment. The planet Earth can be the bubble that protects us from the Sun, but can it can become the apex predator very suddenly, and irreversibly, if we hit the wrong tipping point. There are no (real) greener pastures, this is 'all we got'.
Can we continue to survive?
Like our ancient pre-industrial ancestors, all we have is the ability to communicate and coordinate action – and strength in numbers. This has become both easier than ever before, but also maybe the hardest it's ever been. We celebrate individual achievement – without much tax burden to weigh them down, billionaires are staging their own space race. Millions are disenfranchised and doubts about fairness of elections are sowed by private interests. Many are looking for a saviour to offer simple solutions to complex problems. Razor-thin voting margins give power to populist leaders who are ready to embrace autocracy.
Our conviction
Our future is in our hands. Both global pandemics and the climate crisis could be solved if we work together, rather than protecting our own perceived self-interests. This applies on every scale – from the donation to your local charity this holiday season, to getting vaccinated to protect yourself and everyone with whom you come in contact, to voting for political parties that are guided by scientific consensus and collaboration, to strengthening international organisations and cooperation on a global level.
Investors and others are making efforts, but we all need to make more. Investors are increasingly realizing we must work in numbers, such as the Investor Policy Dialogue on Deforestation (IPDD), and the Net Zero Asset Managers Initiative. At Candriam, we leverage our ability to analyse the details of these sorts of initiatives not only for a clearer investment view, but also to guide the philanthropic efforts of the Candriam Institute. We are participants in these, and co-sponsor regeneration and afforestation projects in Brazil, Zambia, and Senegal with WeForest.
Finding solutions that work for all requires compromise, and compromise requires humility and compassion. What better gift for this holiday season?
"Our Candriam Deforestation Score employs a variety of sources, including satellite imagery, to gauge forest cover loss, total biomass loss, and land use change. Our model also estimates of the emissions impact as a result of land use change."


---
1 Tech Times. Virtual Metaverse Yacht Sold for $650K in The Sandbox. Available at https://www.techtimes.com/articles/268685/20211129/virtual-metaverse-yacht-sold-for-650k-in-the-sandbox.htm, accessed on 6 December 2021
2 According to our afforestation partner, We Forest
3 Sylvain Bonhommeau, Laurent Dubroca, Olivier Le Pape, Julien Barde, David M. Kaplan, Emmanuel Chassot, Anne-Elise Nieblas. Eating up the world's food web. Proceedings of the National Academy of Sciences Dec 2013, 110 (51) 20617-20620; DOI: 10.1073/pnas.1305827110.
Available at https://www.pnas.org/content/110/51/20617, accessed on 2 December 2021