As the curtain has finally come down on an age of low interest rates, central bank support and the abundance of cheap capital, there are new actors at play.
A succession of grey swans has brought in a market environment full of new challenges, impacting countries rich and poor. A war in Europe, big geopolitical shifts, market volatility, high inflation, energy crisis and food security concerns.
All this at the time when governments have been told that the biggest challenge, the climate crisis – rising temperatures, nature loss and extreme weather events – is escalating and that a solution will require an urgent transformation of the global economy.
Global Climate Emergency: Record Temperatures in 2022.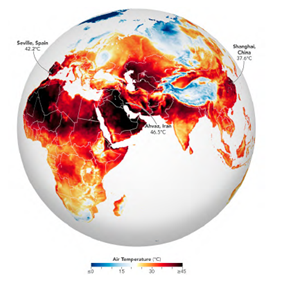 Source: NASA26 as at June 2022.
Our Sovereign Sustainability Report 2022
The ability of countries to cope with sustainability challenges will inevitably affect their ability to repay debt. But it is not all about protecting portfolios from multiplying swans. Without governments these challenges won't be solved. It is here that sovereign investors can play an important role by supporting those governments that treat sustainability seriously.
Our sovereign sustainability framework is designed to help identify such countries. In our latest report you will discover our sustainability rankings of countries, and read about what we believe are today's biggest themes for each of the four types of capital: natural, human, social and economic:
Emissions –our new emissions model examines carbon footprint by industry and energy source, assessing the potential for Net Zero
Food production and security – weaponisation of grain exports is affecting food supply chains (already strained by population growth), in turn impacting diets and the environment.
Democratic accountability –autocracies and populist movements are gaining ground. Cooperation seems hardest to achieve when it is most needed for address addressing the climate emergency
Energy Transition – energy security has risen to the top of the European agenda governments, and the energy transition should be the centrepiece economic policy for the next 10 years.