Toward the end of this year, on Tuesday November 3rd, US citizens will go to the polls to choose their next president, elect representatives from all 435 congressional districts across each of the 50 states and pick 35 of the 100 Senators. While the Democratic primary process has been going on for a year, in February the voting gets underway to determine who will run against Donald Trump, the 45th and incumbent president. We describe why we are facing an extremely polarized election year in the US, and how the Democratic Primary season could be relatively short. Finally, we briefly discuss investment implications on current expectations.
A divisive and contested election. The 2020 election is expected to be one of the most divisive elections in US history. If we look at four macro elements (Corporate and Personal taxes, Regulation, and Trade) and four important sectors (Energy, Healthcare, Finance, and Tech), it is apparent that nearly all positions of incumbent President Trump are diametrically opposed to those put forward by progressive Democrats such as Bernie Sanders and Elizabeth Warren. The field of Democratic candidates still includes moderates such as Joe Biden, Pete Buttigieg and Michael Bloomberg.


Chart 1An extremely polarized election year in the US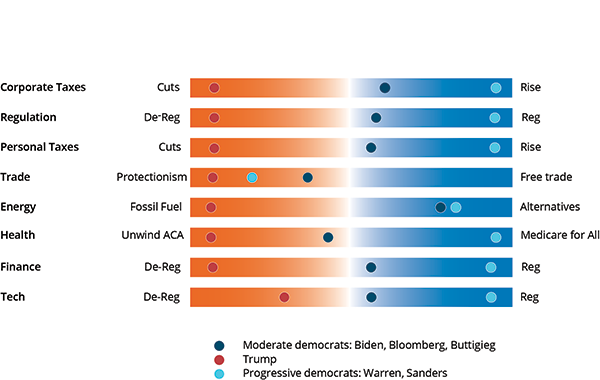 The Democratic presidential candidate could be known by the end of Q1. Democratic primaries begin on February 3rd with the Iowa Caucus, followed by primaries in New Hampshire eight days later. But real action will be on the multi-state day of 'Super Tuesday' on March 3rd. Two of the most populous states, California and North Carolina, have moved their primary contest to Super Tuesday, as Texas already did in 2016. Overall, 40% of total pledged delegates for the Democratic National Convention of mid-July will be known at that date. By the end of March, 3080 or 65% of Democratic primary delegates may be determined. Hence, this may possibly become the shortest primary season ever and we could know who will run against President Trump in November three months sooner than usual. While all major Democratic presidential candidates have led the polls over the past 12 months, Bernie Sanders has now taken the top ranking in the 2020 Democratic Nominee prediction odds.

For financial markets, policy implementation matters more than election outcomes. According to recent fund manager surveys, the outcome of the 2020 US election has now become the biggest tail risk, ahead of trade wars. As of today, late January, financial markets price a market friendly election outcome, implying a status quo probability of 40%. Focusing on detailed outcome probabilities for Election Day, including probabilities for a unified or divided Congress, suggest that election risk might currently be underestimated. Currently, we have an overall neutral exposure towards US equities and will continue to pay particular attention to the Healthcare sector which has been most impacted by changes in odds of progressive Democrats.
Chart 2
Bernie Sanders has taken the top ranking in Democratic Nominee prediction