Remember money market strategies? They're back!
Once the latest rate hike is incorporated, money market strategies can offer yields above 4%!
A record path and close to a record return in money market strategies since 2001.
Money market strategies have regained their popularity as central banks have hiked rates in their fight against inflation.
In a market context of slowing growth, sticky inflation, tighter credit and inverted yield curves, money market strategies offer an attractive return and an opportunity for investors. Money markets have been transformed from just a safe place to a land of potential return.
Such market conditions proved to be favorable for Money Market strategies and holders of Floating Rate Notes / Bonds (floaters), who seized the opportunity to improve their return during the hikes. In addition, floaters offer a natural protection against interest rate volatility and upside inflation surprises.
Policy makers acknowledge the downside risks to growth but remain confident in the resilience of the economy and seem to prefer to err on the cautious side, taking the risk of overtightening rather than 'not going the distance'. Given the stickiness of core inflation and the persistent inflation risks on the upside, current market pricing of 70 bps of rate cuts over 2024 seems optimistic on inflation or assumes a severe economic slowdown that would force the hand of the ECB.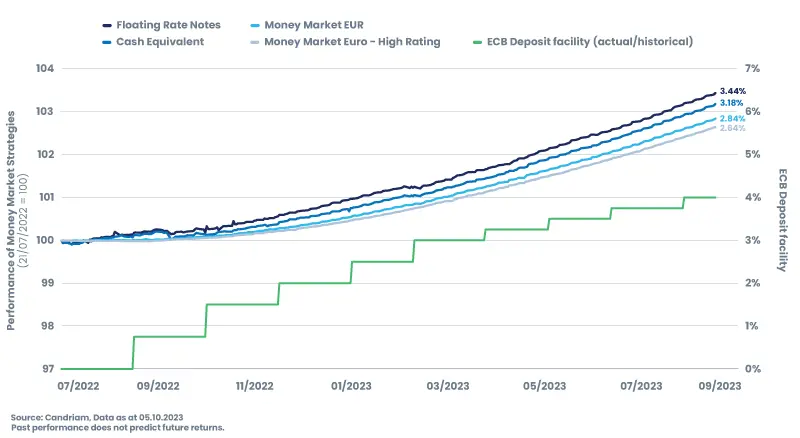 With a proven track record, over 40 billion euros under management and more than 25 years of expertise in fixed income markets, Candriam ranks among the leaders in Europe. Managed by a dedicated team of three money market investment specialists within a broader team of 40 fixed income managers and credit analysts, Candriam Money Market strategies offer investors different profile to meet every investor need:
Strategies

Money Market Euro
High rating

Money Market EUR

Cash Equivalent

Floating Rate Notes

Average rating*

Seeks to maintain AAA rated by a rating agency with weekly controls

A

BBB+

BBB+

Diversification*

70 issuers
all analyzed internally

90/100 issuers
all analyzed internally

90/100 issuers
all analyzed internally

90/100 issuers
all analyzed internally

Seniority*

100% Senior

90-100% Senior -
max. 10% subordinated

Average maturity of assets (max.)*

60 days (max 90 days)

90 days
(max internally 280 days)

180 days (max 2 years)

325 days (max 3 years)

Expected yield
based on current market conditions

4.03%

4.10%

4.15%

4.16%

Liquidity

Daily
T+0 settlement

Daily
T+0 or T+2 settlement, depending on fund domicile

Daily
T+2 settlement

Daily
T+3 settlement

Risk profile
(1 to 7)

1

1

2

2

Valuation

Mark-to-market - the strategy's NAV reflect market conditions
* These data are indicative only.
The scenarios presented are an estimate of future performance based on evidence from the past on how the value of this investment varies, and/or current market conditions and are not an exact indicator. What you will get will vary depending on how the market performs and how long you keep the investment/product.
All our investment strategies involve risks, including the risk of loss of capital. The main risks associated with our money market strategies are: Risk of capital loss, Interest rate risk, Risk associated with external factors, Credit risk, Risk associated with derivative financial instruments, Foreign exchange risk, Counterparty risk, Concentration risk, Operational risk, ESG investment risk, Sustainability risk. The risks presented above are not exhaustive. For more information on the risks associated with an investment in one of Candriam's money market strategies, please refer directly to the Prospectus and the KID of the funds.
Disclaimer

This is a marketing communication. This document is provided for information purposes only and does not constitute an offer to buy or sell financial instruments, nor does it represent an investment recommendation or confirm any kind of transaction. Although Candriam selects carefully the data and sources within this document, errors or omissions cannot be excluded a priori. Candriam cannot be held liable for any direct or indirect losses as a result of the use of this document. The intellectual property rights of Candriam must be respected at all times, contents of this document may not be reproduced without prior written approval.
Warning: Past performance of a given financial instrument or index or an investment service or strategy, or simulations of past performance, or forecasts of future performance does not predict future returns. Gross performances may be impacted by commissions, fees and other expenses. Performances expressed in a currency other than that of the investor's country of residence are subject to exchange rate fluctuations, with a negative or positive impact on gains. If the present document refers to a specific tax treatment, such information depends on the individual situation of each investor and may change.
The risk of loss of the principal is borne by the investor.
Information on sustainability-related aspects: the information on sustainability-related aspects contained
in this communication are available on Candriam webpage