Breast cancer remains a current concern
Good news! The five-year survival rate for women diagnosed with breast cancer in the United States is now 90%[1]. Unfortunately, when looking at other statistics, the outlook worrying: one in eight women will develop an invasive form of breast cancer during their lifetime. In 2020, two million new cancer cases were diagnosed worldwide. Breast cancer is the most common cancer type among women and the second deadliest, following lung cancer. To better understand the urgency of treatments: in 2020, 685,000 women lost their lives from breast cancer.
Innovation drives future growth
If cancer continues to strike, its survival rates have substantially improved over the past thirty years thanks to continuing innovation in both diagnostics and treatments.
Despite the more difficult performance of the healthcare sector this year (cf. infra), we nevertheless recognize the continuing innovation in the health care sector. As at the end of 2022, more than 6,000 drugs were under development[2]. Around 40%[3] of those drugs in development were in trials to treat cancer, such as cancer vaccines. Others are already on the market, such as radiopharmaceuticals, CAR-T therapies, or in advanced development like personalized therapies."
Antibody-drug conjugates (ADCs) for ovarian cancer
ADCs combine antibodies with chemotherapy for precise targeting. Numerous therapeutic successes testify to this major innovation, such as Enhertu for breast cancer. And today, many pharmaceutical companies are active in R&D to develop such combinations. Elahere is a particularly significant example. This ADC shows significant tumor reduction in ovarian cancer. Its accelerated FDA approval in November 2022 underlines its potential as a treatment already considered revolutionary.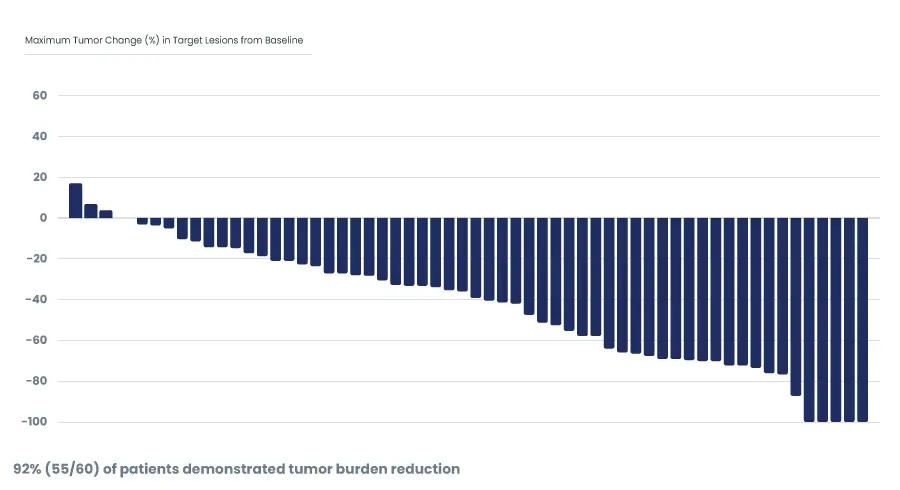 Source: Elahere, Immunogen
Elahere's first clinical data show the degree of tumor size reduction in patients with ovarian disease: each bar represents a patient's response to treatment, with descending bars indicating tumor reduction and rising bars tumor growth.
Radiopharmaceuticals in the fight against prostate cancer.
Oncology treatments are progressing by focusing on the precise tumor targeting. A recent advance in this field is the binding of antibodies (therapeutic products directed at cancer cells) to radioisotopes. Unlike conventional external radiotherapy, these products are administered intravenously, enabling tumor cells to be precisely targeted while preserving surrounding healthy tissue. Pluvicto, a product designed to target an antigen present in prostate cancer cells, has been granted regulatory approval in 2022. This represents a major milestone in the field of biopharmaceuticals. And it's already proving a commercial success.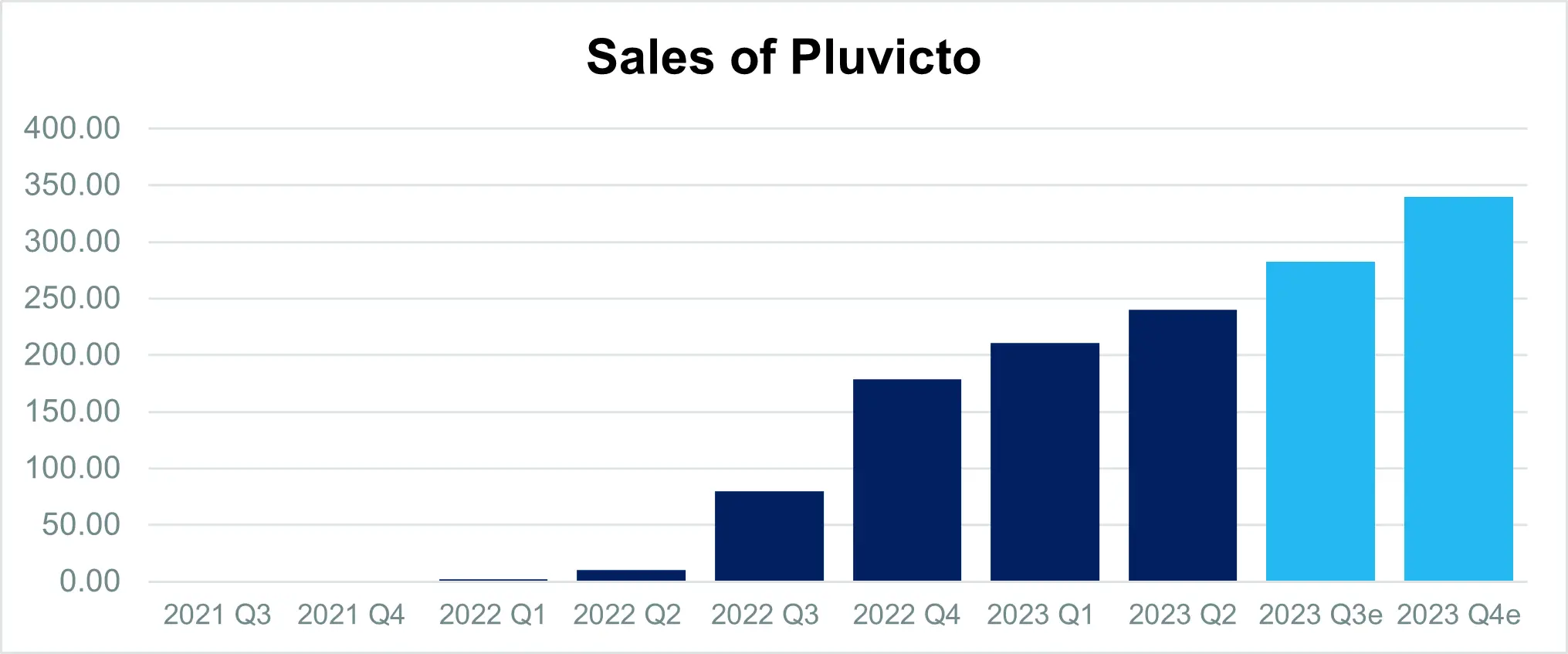 Source : Bloomberg, Novartis
Personalized therapies for the treatment of lung cancer.
Lung cancer is characterized by the presence of various genetic alterations and mutations. Instead of using a single approach, the exploitation of specific genetic alterations offers the possibility of a more personalized and effective treatment.
While the ALK gene alteration was identified in lung cancer as early as 2007, it is interesting to note that half of all "ALK-positive" lung cancer cases are diagnosed in people under 50[4]. During the AACR-NCI-EORTC Oncology Conference in October 2023, Nuvalent presented very promising preliminary data from its trials in lung cancer patients, indicating a potential breakthrough in this field.
Those and other innovations will continue to drive future growth in oncology. The therapeutic area of oncology remains the biggest one in the entire health care sector. In addition, other market segments, such as cancer diagnostics and cancer profiling, are also expected to show double-digit growth in the coming years[5].
The cost challenge for innovations
All this must not blind us to the fact that high-end technologies contribute to the rapidly increasing costs of some innovative treatments. This can lead to limited accessibility for most patients. Research and development costs are also rising due to technological advancements, further impacting prices. Price regulation involves negotiations between health authorities and pharmaceutical manufacturers, and competition among development labs helps bring down costs over time, making vital treatments more affordable.
A sluggish 2023 stock market...
Despite strong fundamentals the global health care sector has nevertheless been unable to keep up with the broader global equity market so far this year.
The global health care sector (MSCI World Health Care NR USD) has underperformed global equities (MSCI World NR USD) by almost 13%[6]. That underperformance is mainly due to market environment shift we have experienced. Investors have focused on cyclical and interest-rate sensitive sectors, such as consumer discretionary and information technology, whereas defensive sectors, such as consumer staples and health care, were out-of-favour.
In addition, performance dispersion within the health care sector was high. On the one hand, big pharmaceuticals outperformed, but mainly on the back of strong interest in obesity and diabetic-related stocks. On the other hand, small biotechnology companies lagged the broader health care sector. Besides those elements, there a no real fundamental drivers that caused the sector's underperformance.
…but a resilient outlook for healthcare and oncology
In our view, the medium and long-term outlook for health care, and also more specifically, oncology, remains solid. Valuations are, in our opinion, very reasonable, and provide opportunities. Positive clinical data will continue to underpin growth, especially given the attractive valuations. The shorter to mid-term outlook nevertheless strongly depends from the macroeconomic situation that is gradually become more constructive for defensive growth sectors, such as health care. Economic growth is trending down - but probably without going into recession - while inflation is easing and the major central banks are almost done by hiking interest rates. That creates a favorable set-up for the sector of which also oncology will benefit from rate hikes to rate cuts.
From a long-term perspective, the sector continue to be driven by innovation and an ageing population. Unfortunately, cancer is mainly a disease of age and the risk of being diagnosed cancer throughout our life is close to a shocking 40%[7]. The medical need for cancer treatment remains extremely high.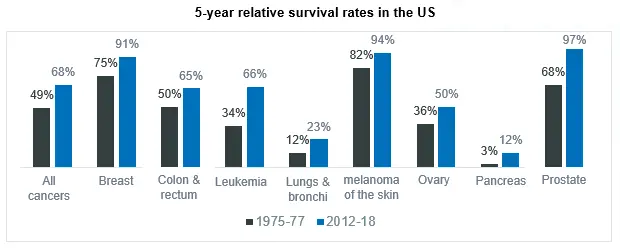 Sources: National Center for Health Statistics (NCHS), Centers for Disease Control and Prevention, 2022 / © Copyright American Cancer Society, 2018
Fortunately, things are also heading into the right direction. Survival rates have been increasing in recent years and spur hopes that cancer will become a curable disease in the future.
This is a marketing communication. This document is provided for information purposes only and does not constitute an offer to buy or sell financial instruments, nor does it represent an investment recommendation or confirm any kind of transaction. Although Candriam selects carefully the data and sources within this document, errors or omissions cannot be excluded a priori. Candriam cannot be held liable for any direct or indirect losses as a result of the use of this document. The intellectual property rights of Candriam must be respected at all times, contents of this document may not be reproduced without prior written approval.
Warning: Past performance of a given financial instrument or index or an investment service or strategy, or simulations of past performance, or forecasts of future performance does not predict future returns. Gross performances may be impacted by commissions, fees and other expenses. Performances expressed in a currency other than that of the investor's country of residence are subject to exchange rate fluctuations, with a negative or positive impact on gains. If the present document refers to a specific tax treatment, such information depends on the individual situation of each investor and may change.
The risk of loss of the principal is borne by the investor.
Information on sustainability-related aspects: the information on sustainability-related aspects contained in this communication are available on Candriam webpage https://www.candriam.com/en/professional/sfdr/.
[1] Source: Breast Cancer Research Foundation
[2] Source: Charles River Laboratories: presentation at J.P. Morgan Healthcare Conference
[3] Source: McKinsey Oncology Market Outlook.
[4] Source: Nuvalent, Lung Cancer Research Foundation
[5] Source: Institut IQVIA, Global Use of Medicines Outlook to 2027
[6] Source: Bloomberg. Data as at 17/10/2023. Past performance does not predict future returns.
[7] Source: National Institute of Health (NIH)