As the COVID-19 pandemic weakened its mighty grip, China enjoyed a strong recovery, helped by developed economies' consumption switch from services to manufacturing products, many of them coming from China.
During the crisis, China's COVID strategy of hard confinement has also been successful, with only 4,655 deaths[1] officially declared since early 2020, in contrast to a heavy death toll suffered by most major economies.
However, Chinese equities have underperformed the broader global market over the past few months. Over the first half of March in particular, Chinese equities lagged their global peers by about 20 points[2], pushing China's index (MSCI China Index) into a deep negative territory as it plunged by about 30% from the beginning of 2022 to 26.04. Since then, Chinese equities have recovered some of the ground but still underperformed MSCI World All Countries Index by 47.3% since 2021 to date and by 14.1% since the beginning of 2022.

So, what has been behind such a weak performance and what can we expect in the months ahead?
Last year, in 2021, the performance of Chinese equities has suffered in particular from the government's moves to tighten its regulations around several key investment areas. Following the collapse of China's largest property developer Evergrande, the housing market found itself the target of new powerful regulations. Chinese regulatory authorities have also effectively banned for-profit tutoring and tightened regulations around technology companies.
As we entered 2022, investors in China have had to digest other challenges as well:
New regulations aimed at limiting technology companies' monopolies and helping to redistribute their profits to the Chinese population
Dispute over Chinese companies listing in the US, with the American authorities threatening to remove them
The Russian aggression in Ukraine challenging the perceived neutrality of China and raising a possibility of Western retaliation against the Chinese support of the Russian regime
More lockdowns
The straw that broke the camel's back has been the latest COVID (Omicron) infection wave, which struck China at the beginning of March 2022. While developed countries have been gradually moving away from lockdown measures as high vaccination rates brought in good level of immunological resistance against the disease, China maintained its strategy as it did on day one. So, since the beginning of March 2022, the Chinese government imposed new lockdowns in several regions including large cities like Shanghai, which accounts for over 3.8% of China's total GDP. This has led to a fall in China's Purchasing Managers' Index (PMI), with Markit/Caixin PMI Services and Manufacturing below the psychologically important 50 mark, at respectively 42.0 and 48.1. Shanghai is also the world's largest port, so the lockdowns have caused a heavy marine traffic congestion, with the number of vessels waiting outside doubling over the last month.
That said, more bad news coming in the last few weeks about the COVID situation in Shanghai and the lockdown in Beijing, did not push Chinese equities back to their March lows. It may suggest that the March drawdown was a local capitulation by the investment community on Chinese equities.
What's ahead?
So far, market indications for the foreseeable future are relatively positive. We expect COVID cases to fall as weather becomes warmer and lockdown measures eases. With fiscal and monetary stimulus already helping to push Q1 GDP above expectations (Q1 GDP grew by 4.8% YoY in the Q1 2022, compared to 4.2% expected / total social financing in March 2022 at RMB 4,650bn, compared to the forecasted RMB 3,550bn), the authorities should speed up their easing measures to mitigate the lockdown effects. New measures included the China's central bank (PBOC) cutting the RRR on Banks by 25 basis points (bps) and the RRR on FX deposits by 1%. These are expected to accelerate rapidly once lockdowns are gradually ended.
Investors have reduced their exposure to the Chinese market, with the short positioning on Chinese equities ranked among the most crowded trades[3]. Investor sentiment remains relatively low, with valuations close to the lows reached during the COVID crisis. Moreover, even if the Chinese government continues to target the GDP growth of 5.5% for 2022, market forecasts have been steadily revised down to 4.9%, demonstrating how low is the confidence in China achieving the official target. We expect those forecasts would undergo further negative revisions until the COVID situation stabilises. However, given that the 20th Communist Party Congress takes place during the second quarter of 2022, Xi Jinping may soon accelerate the fiscal and monetary support to secure his re-election.
What's behind the corner?
Ultimately, in a challenging global environment for risky assets, Chinese equities could outperform global equities in the coming months, as we believe a lot has been priced in already. Positive newsflow and easing monetary policies and stimulation of credit conditions may provide support for Chinese equities, while other regions experiencing tightening financial conditions will not (United States, Europe). In addition, the end of lockdowns measures should also be a positive factor.
However, over the longer term, Chinese equities may face a structural headwind due to the "de-globalisation" process that has accelerated with the pandemic and the war in Ukraine. In addition, China's stance on Russia could hurt its relations with Western economies and, ultimately, its trade balance.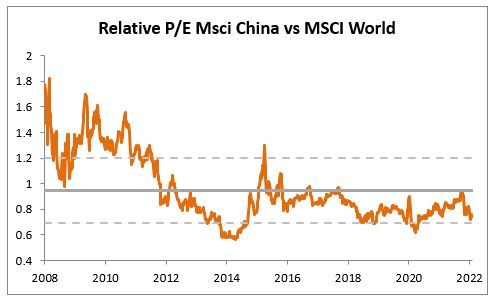 [1] Source: Ourworldindata.org
[2] between 01/03/2022 and 15/03/2022.
[3] According to the « Global Fund Manager Survey » - Bofa Merill Lynch – April 12th, 2022